Posted on
September 9th, 2007
by bugsy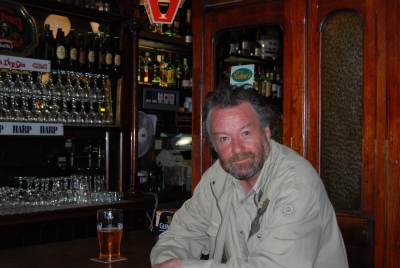 This is Mr P.
I met him on an unusual — global warming kind of — hot April day at John Kehoe's in Baile Átha Cliath. In the few hours we sat, he told me his life story. He told me how he left the rat race to the rats and became an artist. How he was free. Life may have been rough, but he was happy. He said it was better this way.
I think he meant it.
He asked and I told him about my hometown. He knew all about Florida. He told me how he spent time in Kissimmee. He told stories that can only be told hunched over on a stool. And just like a skilled artist, he changed his emotional complexion faster than a playful cephalopod. His speech had a carillon-like quality: the words would end, but the meanings seemed to ring on and blend in some intangible harmony.
It was over all too soon. I had things to do, people to see, and places to be. I wished I had more time, but I did not. As I stood to leave, thinking that our paths would never cross, I told him that I hoped we could continue our conversation on the other side.
I meant it.